Latest News
THE SKAPOCALYPSE IS HERE!
*OUT NOW* OUT NOW* OUT NOW*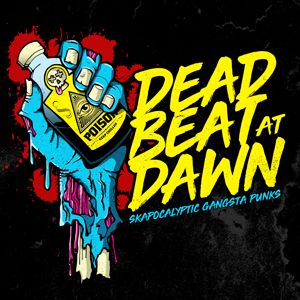 Here it is the second track taken from our double A side ep, Pushin' Poison!! A They Live inspired video filmed, cut and pieced back together again by our very own Mr Shrimps. Share and enjoys!!
Listen and download with all artwork at our Bandcamp page
* The Skapocalypse is here! Here are videos for both our tracks 'You Can't Kill (What's Already Dead)' and 'Pushin' Poison'.
We put blood, sweat, tears into this release so we're so fuckin chuffed to finally have finished the second video for you and the whole fuckin' world to ch-ch-check out!
Recorded by the mighty Dave Boothroyd at Reel Recording Studios, York. We are super stoked how rad they've turned out and Dave B killed it on the mix - hit him up and book him now! He's an absolute legend!
* They are also available on all the main streaming sites including Spotify, iTunes, Deezer etc etc so play them loud and put them bad boys on repeat. we've even got a verified blue tick next to our name, so we're now a proper band like U2, The George Baker Selection and The Kanye Wests.
---
* Our back catalogue entitled 'Dead Before Dawn' is also available to stream on Spotify now too so please give us a follow if you're on Spotify, please stream our music all night so we get paid. 'Dead Before Dawn' is compiled from our first 4 track demo we did 2008ish, and 2 songs we did in a local studio a couple of years later. We don't play many of them live anymore, but it's worth a listen to.
---
* We're also working on getting some rad new t-shirts printed over with the awesome Merch Stall guys again. We still have some of our previous designs left and we're working on a merch page at the mo so keep your eyes peeled for that.
* We've been a little quiet of late but we're gearing up to get out to play some gigs and have some fun just in time for summer! Thanks for stickin' with us.
---
Bio
The world's most unprofessional punk band, flag bearers for 0605 Records, Thirsks best looking boy band, "oh, not those guys"... DeadBeat At Dawn have been called a lot of things. 
Founded way back in 2006, out of the ashes of Mafia vs Ninja and BossEye, this group of long time friends continue to craft their eclectic mix of punk rock, ska, rap and pop, with a heavy influence of cult horror and action films, batshit conspiracy theories and stupid in jokes.
With smiles on their beautiful faces, and a trail of spilt drinks from the bar to the stage, DeadBeat At Dawn are the same band they've always been, good friends here for a good time, doing their best to bring a fresh style to an ever evolving genre. 
Taking their name from the cult action film by Jim Van Bebber, they were included on a documentary film about him in 2016, alongside Pantera and hip hop legend RA The Rugged Man amongst many others. 
Recently playing gigs with the likes of Gimp Fist, The Brawlers, and The Siknotes, DeadBeat At Dawn first and for most concentrate on having a good time on stage, hitting the right notes comes second place, bringing a party atmosphere and leaving smiles to each venue they play...
You can head straight on over to our Bandcamp page (or look down the right hand side column on this page) for the free download, or just for a listen of their first ep recorded back in the year of 2008.

Or, if your eyes and ego's can take it, why check out their music videos below: